In the Media: Herald Sun, 

Daily Telegraph, Courier Mail, The Advertiser, Cairns Post, Gold Coast Bulletin and the Geelong Advertiser, 12 April 2019
Fewer people are choosing to become teachers but there are plenty of reasons to consider the career.
A 2018 Australian Government report reveals applications to study undergraduate degrees in teacher education dropped by about 9 per cent between 2017 and 2018.
About 25,300 people applied, down from about 27,700 a year earlier.
Blackfriars Priory School learning engagement and pathways co-ordinator Carl Todman says he is not surprised interest in the teaching profession has dipped, even though all three of his daughters are following his footsteps into the education sector.
"In the last 10 years, teaching has become a lot more challenging," he says.
"We are dealing with students with a range of needs in the classroom, and the level of accountability and transparency has increased."
The declining interest is despite SEEK's Salary Report revealing pay packets are growing across the education and training sector.
Between 2013 and 2018, the average advertised salary on SEEK for a primary school teacher increased by 21 per cent to reach about $79,604.
Meanwhile, salaries of secondary teachers increased by 19 per cent ($87,256) and those of teaching aides and special education teachers increased by 18 per cent ($64,788).
Other financial benefits of pursuing a teaching career include State Government incentives for teachers willing to work in remote areas.
In SA, for example, a teacher can earn as much as an extra $9000 a year in "zone allowance" as well as a one-off payment of up to $900 for incidentals, while in Queensland they can earn as much as an extra $12,000 a year and in NSW a teacher can add an extra $25,000 a year.
The Federal Government has also proposed legislation to waive all or part of a teacher's Higher Education Loan Program (HELP) debt if they work for at least four years in a "very remote" school.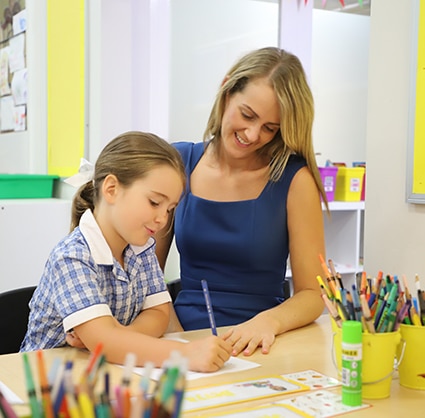 Money aside, Strathcona Baptist Girls Grammar prep teacher Kate Morgan says teaching is a career that allows people to make a difference.
"Teaching is an incredibly rewarding career, so much fun and no two days are the same," she says.
"It is a career that empowers you to make a positive difference in the lives of young people at a critical time of growth and development.
"School-aged children have an emerging sense of self, and their experiences at school can impact strongly on their self-confidence and wellbeing into the future."
Morgan says it is a "privilege" to be a teacher and recommends the profession to people from all walks of life.
"Teachers are not one particular type of person but are a variety of different personalities, from different contexts and life experiences, with different passions and strengths, and students benefit from exposure to this diversity throughout their education," she says.
"Any person who loves working with children, who is patient and kind, with a passion for learning and making a positive difference in the lives of others, is likely to find a career in teaching greatly enjoyable and rewarding."
Todman recommends the career to people who care about kids and have a sense of humour.
"Boys in particular respond well to teachers who can tell a funny story," he says.
"You also need to have high levels of organisation and the ability to make relationships, not just with kids but parents and other teachers."