WHERE LEARNING IS THE
HEARTBEAT OF OUR CULTURE. At Strathcona, we appreciate how important technology and online learning is for our students' future. For girls to use technology in a supported and safe manner, we have designed the programs at Strathcona to ensure technology is deployed in an 'age and stage' appropriate manner.
Technology in the Junior School
In Junior School, Strathcona students start their journey using the visual touch environment of iPads.  As their skills grow and the STEAM program of the school becomes more advanced, Years 5 and 6 students are allocated school-owned laptops for use at school.  This 1:1 school-owned device program gives the students more responsibility but the students are still a contained sandbox, limited in what software can be installed and only able to access the laptop while at school.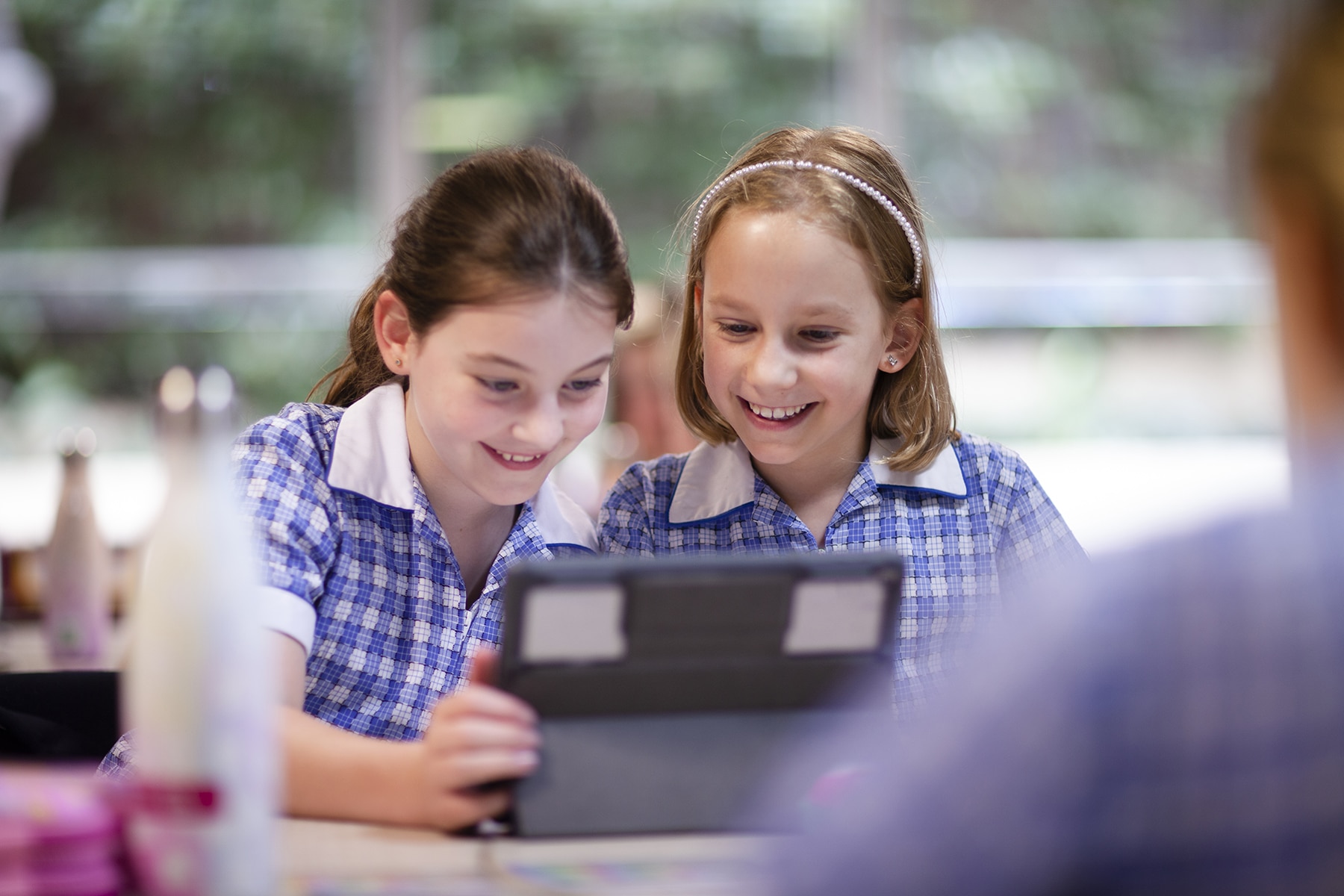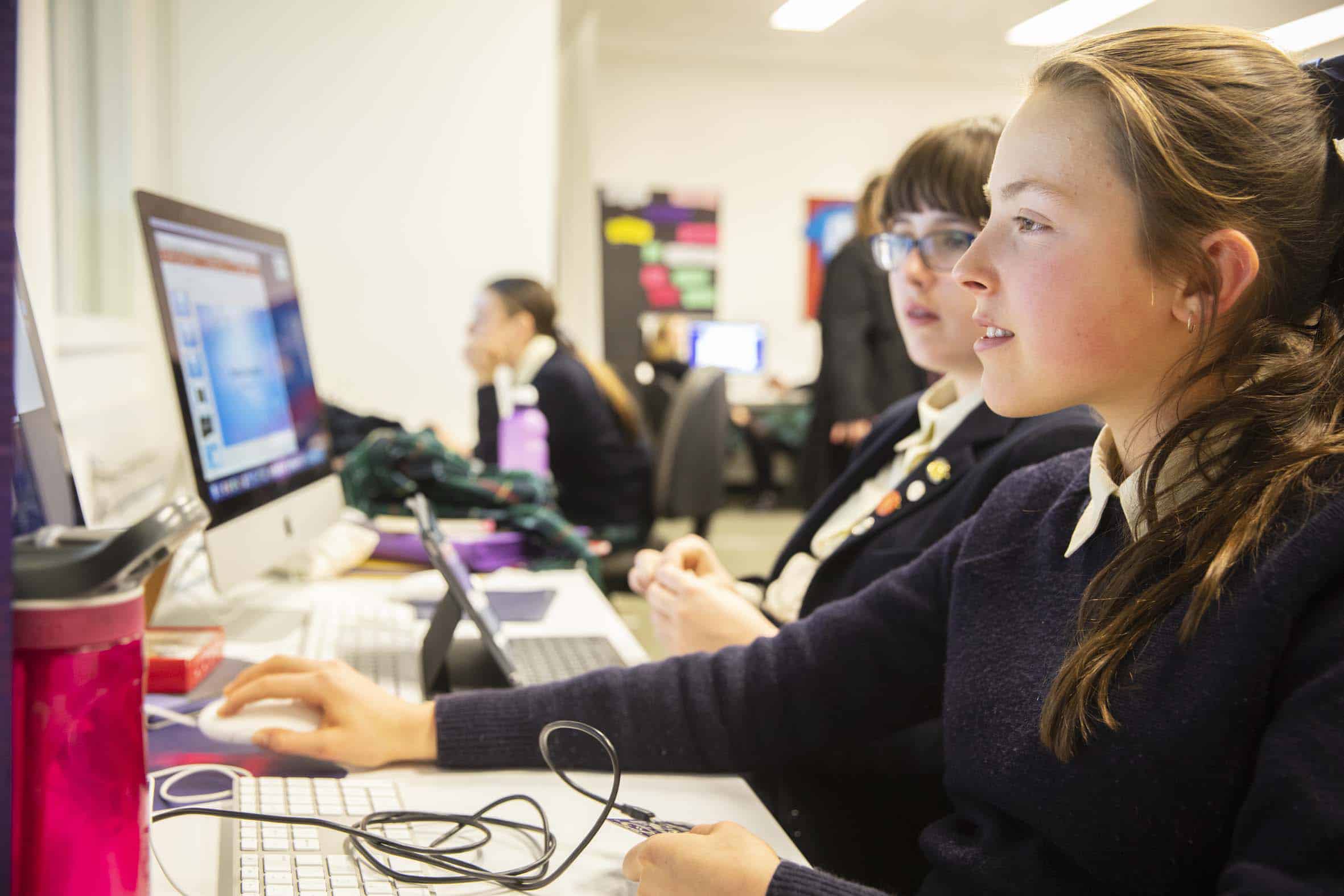 Technology in the Middle Years
In the Middle Years our device program gives Strathcona students more responsibility while continuing to support students in developing strong digital skills and good cyber citizenship.
A set device has been chosen for these years to aid in this direct instruction; it includes a pen, which allows the school to help students use the device for notetaking, annotation and creativity.  This device, the HP Elitebook X360, is purchased through a portal so that it includes technical support and accidental-breakage insurance.
As a family-owned device, Students are able to use it outside of school to extend their learning.  They have opportunities to explore more advanced software and are explicitly taught how to manage their devices.  Teachers set expectations for how and when devices are used in class, providing the foundation for self-regulation of technology use in later years. 
Technology in the Senior Years
By Year 9, students are confident in their management and use of laptops at Strathcona.  They have the knowledge on how to use a variety of software tools and need less direct instruction.  In recognition of this, we have a restricted BYOD device program in Years 9-12.  This means that students in these years may use any device (Windows or OSX) that meets the minimum specifications needed to run the software required at school.  Many students will continue to use their laptops from the Year 7 and 8 program, but this is not mandated.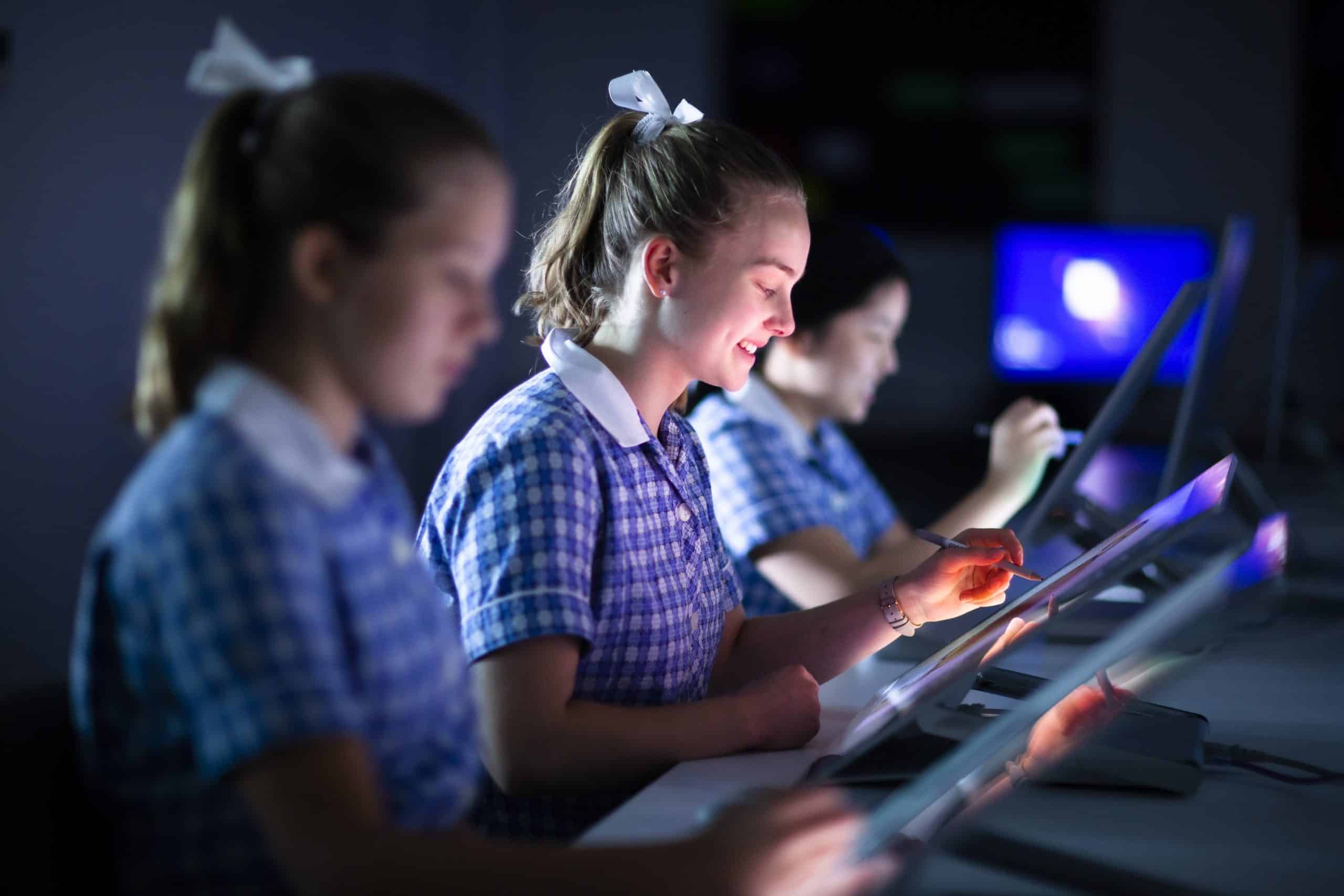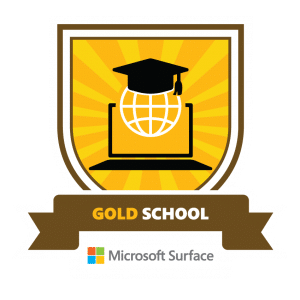 Certified Leaders in Digital Learning 
Strathcona Girls Grammar is proud to have been selected as a Surface Gold School, recognising our creative and innovative use of technology in our learning programs.
In 2020, Strathcona became one of the first schools in Australia to invest in a lab of Surface Studio 2s to support our creative and technology learning programs. These innovative devices are both powerful and flexible, able to be used in both upright and at the angle used at drafting; the responsive pen makes them the ideal device for digital painting, drawing and animating. 

The Tinker Train
We know that every student has the capacity to create and innovate.  That is why we have embedded design thinking into our programs; this approach gives students a toolbox of techniques and thinking that they can use both in school and in the future workforce. 
Design Thinking is used in a range of industries, from the arts to architecture. It describes the process used to explore and creatively solve a problem. At Strathcona Girls Grammar, we have adapted the design thinking process to suit students from Prep-Year 9; we have dubbed this Strathcona's Tinker Train.
Digital Futures Pathways
Technology is shaping the way that we work and live in the future; we want to prepare our girls to help create that future.  As part of that, we have an innovative Digital Futures option, which runs as an alternative to a second language option in Years 8 & 9.  Building on the foundations developed in our Year 7 Digital Technologies subject, students learn a variety of computer programming languages including Arduino, Python and JQuery.  They apply these skills in a variety of projects including:
Using code to create their own Minecraft mods
Designing and creating wearable technologies using sewable electronics
Using robotics and automation to solve problems
Designing and creating webpages and web apps
In the senior years, students can choose to undertake a subject called VR Worlds, in which they design and create their own VR Video Game and VR Movies.  Strathcona offers VCE VET Creative Digital Media to students, which offers them the opportunity to get an industry qualification at the same time as receiving a study score in their final year.
Unstoppable Never Stops
At Strathcona, our Continuous Online Learning Program means your daughter won't be held back when on-campus learning isn't an option. We use technology to keep students connected and engaged, and provide a seamless transition between online learning and on-campus classes. 
Strathcona's success in the online learning space comes from our continued commitment to learning and adapting. We constantly assess how we are delivering the most effective learning possible to keep your daughter on her path to achievement.