[vc_row][vc_column][vc_column_text]
VCE results
[/vc_column_text][/vc_column][/vc_row][vc_row][vc_column][vc_column_text]
Exceptional achievements for the Class of 2017
Our hard-working and committed cohort has delivered outstanding results. They have worked with focus and dedication and it is with great excitement and pride that we present to you these academic outcomes.
I also congratulate their inspirational teachers who have given so much of their time and talent to ensuring that our girls were well prepared. As a non-selective School that welcomes and supports all students to strive for their personal excellence, I feel particularly delighted with our girls and very thankful to their teachers.
We congratulate Dux, Harriet Grimsey, Deputy School Captain, who achieved an ATAR of 99.65. Harriet worked hard while also remaining engaged in a broad range of co-curricular activities.
The Class of 2017 achieved seven perfect study scores of 50 across five subjects. We are extremely proud to have nine students (10%) placed with ATARs of 99 and above.
49% (43 of our students) achieved an ATAR of 90 and above, thus placing them in the top 10% in the state.
The median Study Score was 36.
The whole school community joins in congratulating our students. So many contributed to supporting the girls in their academic and personal journey at Strathcona. The VCE class of 2017 are well on their way and there is no doubt that they will contribute to the world as generously as they have to Strathcona and that they will maintain an understanding of the value of a brave, faithful and optimistic approach to life.
Marise McConaghy
Highlights
10% of students with an ATAR 99+ (top 1% of the state)
18% of students with an ATAR of 98+ (top 2% of the state)
27% of students with an ATAR of 95+ (top 5% of the state)
49% of students attained an ATAR of 90+ (top 10% of the state)
82% of students attained an ATAR of 80+ (top 20% of the state)
26% of study scores were 40 or above
Perfect Scores
We congratulate the following girls who received a perfect study score of 50 in their respective subjects.
Harriet Grimsey (Psychology)
Isabella Hunt (English)
Olivia Muirhead (Physical Education)
Yao (Nancy) Ni (Chinese First Language)
Raffaela Skourletos (English)
Sarah van der Hock (English)
Sarah van der Hock (Health and Human Development)
The following students achieved 99 or above
Harriet Grimsey (99.65)
Selina Giles (99.6)
Phillipa Mitchell (99.6)
Raffaela Skourletos (99.5)
Sarah van der Hock (99.5)
Miranda (Chang) Zhai (99.45)
Kelly Bradley (99.4)
Emma Brown (99.15)
Emelia Wells (99.15)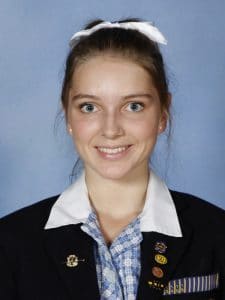 Congratulations Harriet Grimsey on being Dux of the School for 2017.[/vc_column_text][/vc_column][/vc_row]