Year 9 Tay Creggan
Where learning is the heartbeat of our culture
Adolescent years are a time of change and development, a time of curiosity, growth, exploration and independence.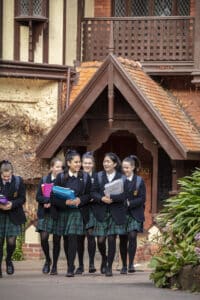 At such a crucial time of change it's important for girls to feel they belong, have a high level of support from their family, school and peers and to be actively challenged and engaged in learning. Strathcona has developed the TC Envision Program specifically tailored for Year 9 students at their own separate campus Tay Creggan, located in Hawthorn.
Tay Creggan is Melbourne's first independent Year 9 girls campus established in 1969. Unlike other Year 9 programs our students have the unique opportunity to study at a separate campus, while still living at home and importantly remain part of the whole school community for school events and celebrations.