In the media: The Australian Weekend- Women in Education by Rosanne Barrett 10  March 2020

Entrepreneur Naomi Simson, co-founder of Red Balloon and a member of Chief Executive Women, says critical thinking skills will be vital for young people to succeed. 'It's not just about what you've learned, it's about how you learn,' she says. 'This represents a massive opportunity for young people.'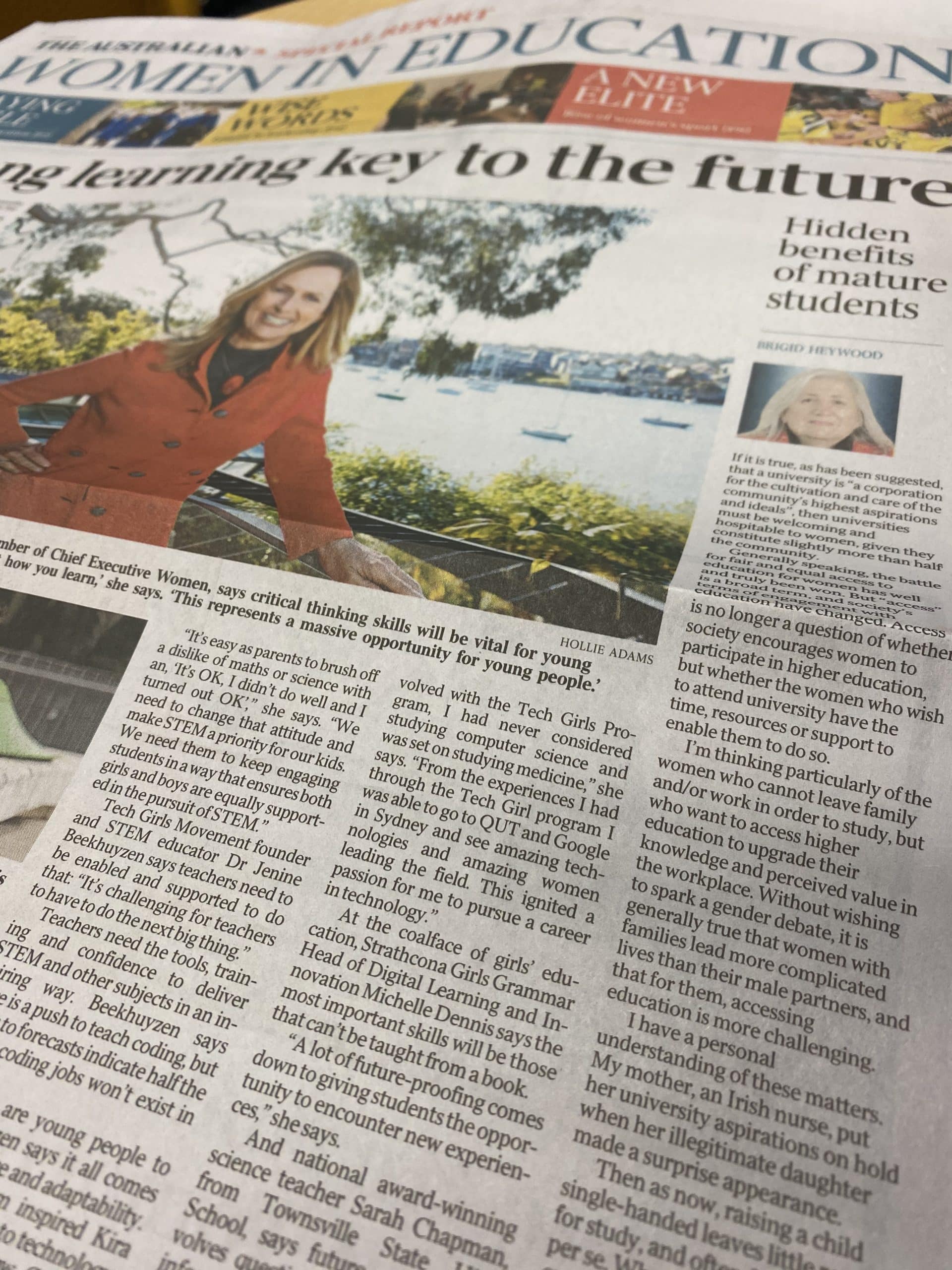 University of South Australia Pro Vice Chancellor Information Technology, Engineering and the Environment, Professor Julie Mills, says technology is advancing at a faster pace than formal university education can keep up with.
"If we're educating somebody for a 40 or 50-year career, clearly what they learned at university, in terms of actual tech, is not going to be current possibly even five years after they graduated," she says.
"The only way you can keep your career education is to learn those other skills and abilities that you will need to be able to adapt and move and change. Communication skills and teamwork and intercultural skills – as well as learning to learn – that is really the
fundamental underpinning there."
Estimates vary, but forecasts predict automation, globalisation and the gig economy will wipe out one in four jobs over coming decades. This accelerates the trend that has seen Australia's economy and workforce transformed over the past generation. For the one million jobs in manufacturing, administration and labouring shed, Australia has gained the same number of positions in knowledge-based and service roles.
The Foundation for Young Australians says future-proofing is about recognising the portability of skills and engaging problem solving, instead of task-based activities.
FYA Policy and Research Manager Kelly Fawcett says a typical 15-year-old will likely have 18 jobs across six careers in their lifetime.
"The jobs of the future, or those jobs that are least likely to be automated, demand enterprise skills [digital literacy, communication, collaboration, teamwork, problem-solving and creativity] 70 per cent more frequently than the jobs of the past," she says.
"These transferable skills can even help to level the playing field for young women in accessing fulltime work. FYA's research shows that when young women obtain these skills from study they will transition from full-time education to full-time work 13 months faster than a young man who has not acquired these skills."
She points to their New Work Smarts report that analysed more than 20 billion working hours to predict skills required in 2030.
It says an average worker will spend 30 per cent more time each week learning skills on the job, double the time at work solving problems, 41 per cent more time on critical thinking and judgment and 77 per cent more time using science and maths.
There will be less management oversight, it says, so the employee will use an additional seven hours a week communicating but use less time managing and co-ordinating and teaching others.
A future pharmacy assistant or electronics technician, for example, will spend less time on stocktaking, ordering and inspecting – which will be automated – and spend more time analysing data or interacting with customers.
Likewise, a teacher is tipped to spend more time directing students into interactive digital experiences and self-directed learning instead of marking.
This means the days of a career for life are over – if they weren't already.
Leading entrepreneur Naomi Simson, a co-founder of Red Balloon and the Red Group and member of Chief Executive Women, says critical thinking and oversight skills will always be vital for people to thrive in future education and work.
"It's not just about what you've learned, it's about how you learn," she says. "Staying curious and interested is a lifelong learning. It doesn't happen just at school or just at university.
"If there's certain traits that employers will always continue to look for, it's people's ability to build relationships, their lateral thinking, their agility and also their analytical and communications skills."
Simson says changes will accelerate, but should not be feared. Repetitive tasks may be rendered obsolete, but thinking skills will remain.
"This represents a massive opportunity for young people," she says.
An FYA analysis of job advertisements between 2012 and 2015 found those skills are already in demand. Requests for digital skills increased 212 per cent over three years, while critical thinking increased 158 per cent, creativity increased by 65 per cent and presentation skills by 25 per cent.
It suggests work clusters where skillsets drive the jobs, and promotes movement across those clusters.
KPMG's National Sector Leader for Education, Professor Stephen Parker, says young people need to be resilient and confident to transition across jobs. "At the individual level, it's about thinking about what you're good at, and what you might migrate or evolve into," the former University of Canberra vice-chancellor says.
"At the system level, it comes down to thinking about lifelong learning. It's also thinking about disciplines, how they're going to change, how we might reimagine these disciplines to focus on the human aspects and attract more people into them."
Most say education models may need to change.
Professor Parker points to systems in Singapore and South Korea, where they have introduced "quaternary education" to encourage lifelong learning amid the transformation of big data, artificial intelligence and machine learning.
He says recasting some of the technical disciplines, such as engineering, into a human focused discipline could result in an increasing interest from women.
The Business Council of Australia has suggested an overhaul of the vocational and tertiary education systems with a shared oversight body and better information about the range of options.
It has called for that same culture of lifelong learning, for initial qualifications for a strong foundation, and then modules to upskill and retrain throughout careers.
And instead of separate funding for universities and vocational training, the BCA says an individual education "account" would allow promote individual choices.
The corporate sector's peak body has also called for a focus on STEM, as technology continues to transform the economy. Across the education system, STEM skills and knowledge are increasingly sought after – but not found.
While the Australian Government pours millions into STEM advancement and advocacy, institutions continue to struggle to attract, retain and progress women.
Industry, Science and Technology Minister Karen Andrews says parents and teachers should encourage STEM participation.
"It's easy as parents to brush off a dislike of maths or science with an, 'It's OK, I didn't do well and I turned out OK'," she says. "We need to change that attitude and make STEM a priority for our kids. We need them to keep engaging students in a way that ensures both girls and boys are equally supported in the pursuit of STEM."
Tech Girls Movement founder and STEM educator Dr Jenine Beekhuyzen says teachers need to be enabled and supported to do that: "It's challenging for teachers to have to do the next big thing."
Teachers need the tools, training and confidence to deliver STEM and other subjects in an inspiring way. Beekhuyzen says there is a push to teach coding, but points to forecasts indicate half the current coding jobs won't exist in the future.
So what are young people to do? Beekhuyzen says it all comes back to resilience and adaptability. Her own program inspired Kira Molloy, 20, to get into technology. She is now on a New Colombo Plan Scholarship, studying at the top-ranking National University of Singapore. "Before I got involved with the Tech Girls Program, I had never considered studying computer science and was set on studying medicine," she says. "From the experiences I had through the Tech Girl program I was able to go to QUT and Google in Sydney and see amazing technologies and amazing women leading the field. This ignited a passion for me to pursue a career in technology."
At the coalface of girls' education, Strathcona Girls Grammar Head of Digital Learning and Innovation Michelle Dennis says the most important skills will be those that can't be taught from a book.

"A lot of future-proofing comes down to giving students the opportunity to encounter new experiences," she says.
And national award-winning science teacher Sarah Chapman, from Townsville State High School, says future-proofing involves questioning and assessing information, from humanities and religion, to arts and sciences.
"A lot of these things are uncomfortable for young people," she says. "It needs to be more of the norm."