In the Media: The Age, 15 December 2018, page 3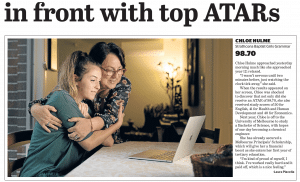 Chloe Hulme approached yesterday morning like she approached Year 12: relaxed.
"I wasn't nervous until two minutes before, just watching the clock tick away," she said.
When the results appeared on screen, Chloe was shocked to discover that not only did she receive an ATAR of 98.7, she also received study scores of 50 for English, 41 for Health and Human Development and 40 for Economics.
Next year, Chloe is off to The University of Melbourne to study a Bachelor of Science, with hopes of one day becoming a chemical engineer.
She has already secured a Melbourne Principals' Scholarship, which will give her a financial boost as she enters her first year of tertiary education.
"I'm kind of proud of myself, I think. I've worked really hard and it paid off, which is a nice feeling."
Laura Placella, The Age

Chloe started at Strathcona in Prep and continued her education with Strathcona until Year 12. To find out more about Strathcona and the opportunities it can provide your daughter please contact our Registrar, Ms Emma Amory, registrar@strathcona.vic.edu.au to book a School tour.