Strathcona congratulates our Class of 2018 on their excellent VCE results. Their achievements are made possible through collaboration, dedication and sheer hard work. Strathcona's Class of 2018 is truly unstoppable.
Congratulations

It is with pleasure that we congratulate the class of 2018 on their outstanding VCE results. We are proud of our enduringly strong academic results and acknowledge the hard work and commitment of our students, their teachers and the constant support and encouragement of our parents.
Excellence in outcomes are a result, not only of individual self-discipline and tenacity, but of team effort. This does not happen by magic, nor is it the result of any one person but it is a strong community that creates the appropriate care, support, time and belief that brings out the best in our young women.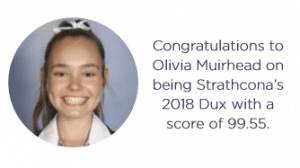 I am delighted with the diversity of achievements across the academic disciplines, not to mention the co-curricular participation, which has enriched the girls' lives and will assist in post-school pursuits. Our students' have started to find their own individual passions and interests, demonstrating determination, exhibiting leadership, while also involving themselves generously and joyously in all parts of school life.
The full stories of achievement and contribution will be told over time, but the seeds have been planted now. Our graduating students will continue to grow and learn.
A Strathcona girl is far more than a number. She is intelligent, brave, creative, warm and compassionate. Our Class of 2018 go out into the community fully equipped and ready to make their generous contributions to the world.
Mrs Marise McConaghy
Principal