SCHOOLS will teach kids stretching and remind them to exercise in the battle to beat exhaustion, and boredom, as learning from home kicks off this week. Students will be checked in on once a day at roll call to ensure attendance and parents have been told teachers will not be available outside of normal hours as part of a new school program. After coronavirus restrictions closed campuses for most students, more than 1 million Victorian pupils are preparing to learn remotely from Wednesday. Schools have been told to create a calendar of learning tasks for students, which sets out what is expected of them each day. Strathcona Girls Grammar has already exposed many issues with home learning after they went online for the last week of term 1.
It found one of the biggest battles was with weariness and the girls getting sore or dry eyes from spending so much time on screens. "When you're physically going from one class to the other, you stand up and walk," said Strathcona's head of digital learning and innovation Michelle Dennis. "Schools need to look at their timetable and find space within it for movement." Strathcona has created 15-minute breaks between classes for stretching. Year 11 student Cassie McKnight took to having a nap after school and before starting her homework to beat the tiredness. She said while some things were better online — like having ready access to class notes — the novelty of doing her classes at home quickly wore off. "After the third day I was like, I just want to go back to school now," she said.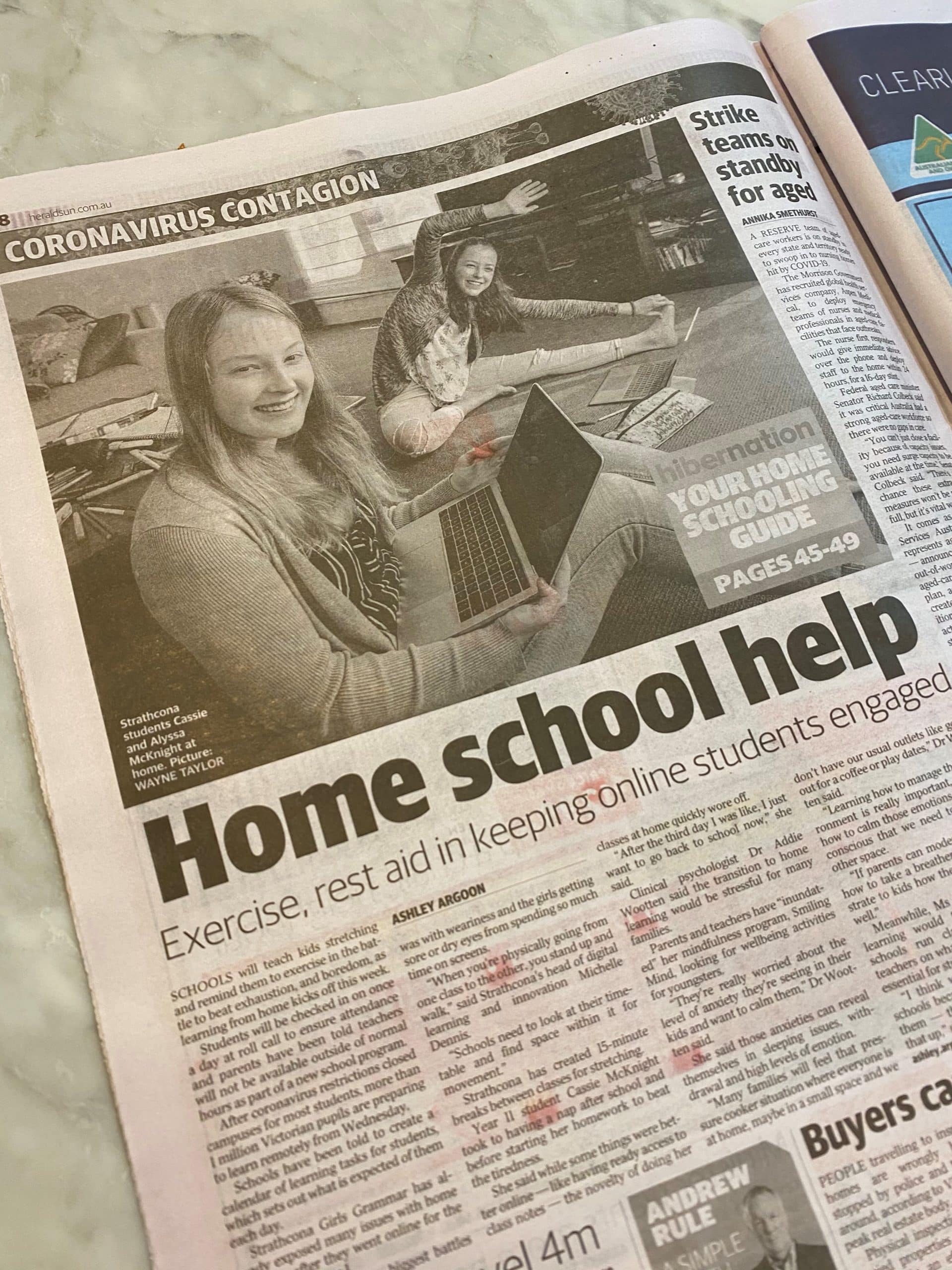 Clinical psychologist Dr Addie Wootten said the transition to home learning would be stressful for many families. Parents and teachers have "inundated" her mindfulness program, Smiling Mind, looking for wellbeing activities for youngsters. "They're really worried about the level of anxiety they're seeing in their kids and want to calm them," Dr Wootten said. She said those anxieties can reveal themselves in sleeping issues, withdrawal and high levels of emotion. "Many families will feel that pressure cooker situation where everyone is at home, maybe in a small space and we don't have our usual outlets like going out for a coffee or play dates," Dr Wootten said. "Learning how to manage that environment is really important, learning how to calm those emotions and being conscious that we need to give each other space. "If parents can moderate and learn how to take a breather it will demonstrate to kids how they can do that as well." Meanwhile, Ms Dennis said home learning would transform the way schools run classes and challenge teachers on what lessons were actually essential for students. "I think we do a lot of things in schools because we have always done them — this is really going to shake that up," she said.
ASHLEY ARGOON