In the media, The Age 26 July 2020
Young children learn most through the research and exploration of play, writes Peter Hanlon.
When new families visit the Early Learning Centre at Strathcona Girls Grammar, the first thing they tend to notice is an intangible element that helps create the perfect environment for a pre-school experience that has relationships at its core. 
"People come here and say how warm the place is upon arrival," says director of early learning Jo Dowling. "There's this feeling of warmth and welcoming. Yes, we do provide a space that is aesthetically pleasing and interesting, because we believe that the environment is a third teacher, so it must be suited to the curiosity, interests and developmental stages of our learners. 
"It's also that idea of providing a democratic space, a welcoming space for families where nothing is like a cookie cutter environment. There is that feeling when parents and children come in, that great connection of home, where we can provide an educational experience for them at the same time." 
At our core, humans are social beings, which is apparent in our youngest in the way they seek to communicate and make connections from their earliest days. Play is their research, and here Strathcona borrows from the Reggio Emilia approach to learning, founded by Italian Loris Malaguzzi, and renowned Harvard educator Howard Gardner's theories of multiple intelligences. 
"It's all about social construction of knowledge – so, relationships, but not just with other people, also with the environment, the materials they use," Dowling adds. "It's about providing opportunities for children to express themselves with what Loris Malaguzzi referred to as 100 languages. Through the arts, through science, literacy, play, every different way imaginable. 
"It's using as many languages as you can, which coincides with Howard Gardner's theory of having multiple intelligences." 
The Strathcona ELC has been operating for 20 years, and welcomes children aged three and four in programs spanning three ­to-five days. Class sizes are kept small, a strong connection is fostered with the rest of the school, and families are encouraged to be part of an open community as their children start their education journey. 
In a warm environment full of history, children in Strathcona's ELC are introduced to technology in their learning through the use of computers, printers, scanners, floor robots, digital cameras and projectors – all tools with which they communicate their ideas or, in Malaguzzi's words, learn more languages.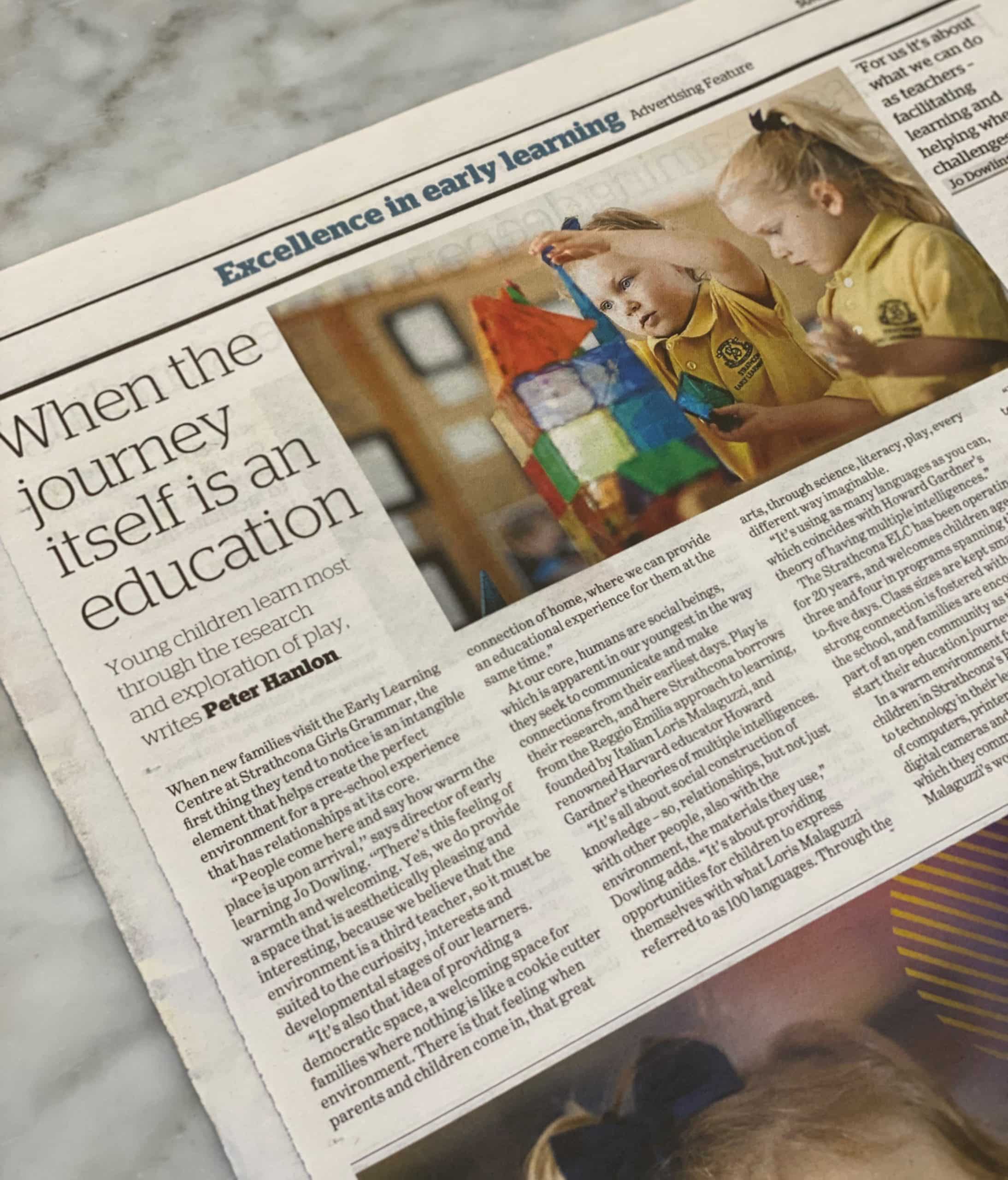 "For us, it's about what we can do as teachers -facilitating learning and helping them when challenges arise," Dowling says. "But, equally, understanding they are exceptionally capable of making decisions. 
"We need to listen to them and look at the process of that learning. It's through this research and exploration of play, and sharing information together; that's when they learn the most.
"It's not necessarily the outcome -they might have a goal, but that's not as important as the process of getting to that goal. This is where the learning and creative thinking occurs, sharing ideas, making mistakes, problem-solving, working in an environment where they feel safe to take risks. 
"And they're not stressed about the end result. They want to find the answer, but our focus is on the process."