Leisl Leighton ('88 ) is one of Strathcona's unstoppable women and an author of award-winning paranormal novels.
Passionate about music and creative writing Leisl has always read everything from fantasy, paranormal, sci-fi, romantic historical and suspense stories, not to mention classics such as Shakespeare.
Leisl has won the Indiana Romance Writers Golden Opportunities Competition and the Utah Romance Writers Heart of the West Competition for her paranormal novel Seer's Blood, as well as the Southern Magic Romance Writers 'Linda Howard Award of Excellence' for Dark Moon, to name just a few!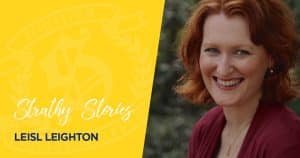 After graduating from Strathcona Baptist Girls Grammar, Leisl went on to complete a double major in English Literature and Drama/Theatre studies.
To further her love for theatre, Leisl and her business partners set up a Theatre Restaurant. After six exciting years, the restaurant closed down and Leisl focused on starting a family. This gave her the opportunity to write the stories she had always dreamed about.
Leisl also occasionally sings in her local choir and works at the YMCA as a swim teacher. Regardless of how busy she is, Leisl always finds time to follow her passion for writing and storytelling.