Take a virtual tour of the magnificent building Tay Creggan and learn about its interesting history narrated by a Strathcona Girls Grammar student, Chloe.
Tay Creggan is Australia's first independent Year 9 girls' campus and continues to provide innovative and leading educational programs. TC Envision is included in the curriculum, an entrepreneurial program affording girls the opportunity to develop life-skills. 
You can also take a tour of Tay Creggan in Minecraft. This has been cleverly created by two of our Year 9 students Michaela and Freya.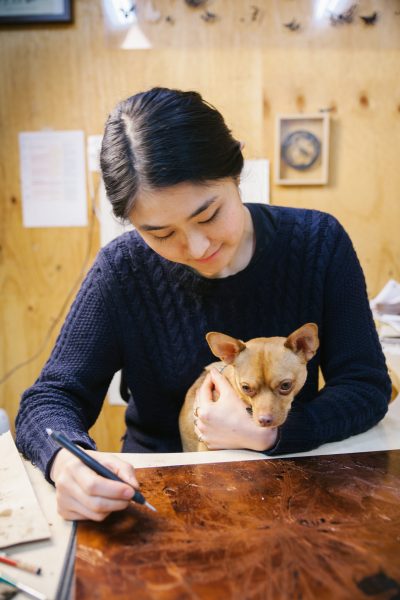 The Art and Design Department at Strathcona aims to build a vibrant and connected artistic and design community through a yearly artist-in-residence program.


The purpose of the program is to form a relationship with an artist who works with a specific year level to create a unique artwork at the school over a period of time. The artist works closely with students and teachers, using their own work, cultural background, ideas and skills as the catalyst for students' own creative explorations.
Below is an artist statement  from Kyoko Imazu who was the Artist in Residence at Tay Creggan this year:
 
It was incredibly uplifting to work as the Artist in Residence with the Year 9 students at Tay Creggan. After a long delay in making this project happen due to the pandemic, this Residency project was a reminder of how artmaking can be a way of, not only expressing ourselves, but also seeing ourselves.
The students were an absolute delight to work with; full of ideas and stories that are bursting to be let out into the world, and their excitement and focus to produce an artwork made my Residency such a rewarding experience. The fact that I was able to work in such a gem of a building surrounded by beautiful gardens alongside the Yarra made it extra special.
Through my art practice, it is my hope to tell the stories of our often-overlooked neighbours like the weeds, bugs and pebbles that fill our everyday lives. When we look closer, every petal, leaf and wing is miraculously unique; they all have their own stories and universes within themselves, containing many states of life, death and regeneration. I use the stories of these tiny neighbours to imagine the worlds we cannot see with our own eyes.
Seeing how each unique story unfolded as the students cut their paper reminded me of what I loved about making art – exploring and revealing stories within ourselves and our 'neighbours' that are sometimes not apparent at the first glance.
It was a life-affirming experience for me and I left Tay Creggan filled with hope.