Six months ago, no one could have predicted the widespread impact of Covid-19 on the arts in Australia. We had previously survived SARS, MERS, swine flu and bird flu without needing to cancel major events or prevent mass gatherings, so why would this be any different? Familiar with the pattern of a new virus emerging every few years, many had resigned themselves to the fact that an outbreak of a new respiratory illness was just an evolutionary process and we would need to adapt accordingly. As Covid-19 established itself as being more dangerous than other pandemics, the response of health authorities was to minimize community transmission through social distancing. In several countries protective measures were enforced swiftly, some introducing curfews, lockdowns and travel permits. Other countries have responded as well as they could by isolating towns or villages as outbreaks occurred, cancelling cultural celebrations, and encouraging safe hygiene protocols.
These protective measures have limited the spread of the virus and therefore saved lives, but they have also come at a significant cost to the economy, our mental health, and the arts both locally and overseas. There is a popular story about Winston Churchill's management of arts funding during the Second World War. When asked why he would not cut it to support the war effort, he replied 'Then what are we fighting for?'. It is difficult to find the historical source of this quote, however, the fact that theatres still operated in the West End during the Blitz (the Windmill Theatre remained open throughout the war, performances continued during air-raid sirens) allows us to appreciate how important the arts were during a time of tragedy and destruction. No one would liken the events of Second World War to staying at home during Covid-19, but the fact that this virus managed to shut theatres across the world when the Luftwaffe couldn't, provides some insight into the scale and magnitude of the devastation this virus has caused not just to human life or the economy, but cultural institutions everywhere.
A friend recently revealed in conversation that she had been tested for Covid-19 because she was experiencing fatigue and exhaustion. She had no other symptoms but was tested 'just in case'. Later on we compared diaries to find the number of eagerly anticipated performances that had been cancelled or postponed. From my daughter's Cirque du Soleil birthday treat, to my friend's MSO subscription, there were no fewer than thirty events that were now crossed off our collective calendars. With trips to galleries, museums, and libraries also off-limits, we lamented the joy that these experiences provide. We quickly concluded that the restorative power of the arts, to transform as well as educate and entertain, was what she was missing the most. And without referring to Dr Google, she attributed her general malaise to an overwhelming sense of sadness for the artists who create these experiences. What might sound like a privileged problem is instead a greater compassion for the humans who create the art that helps us make sense of the world. But the disappointment of audiences is nothing compared to the angst felt by these artists.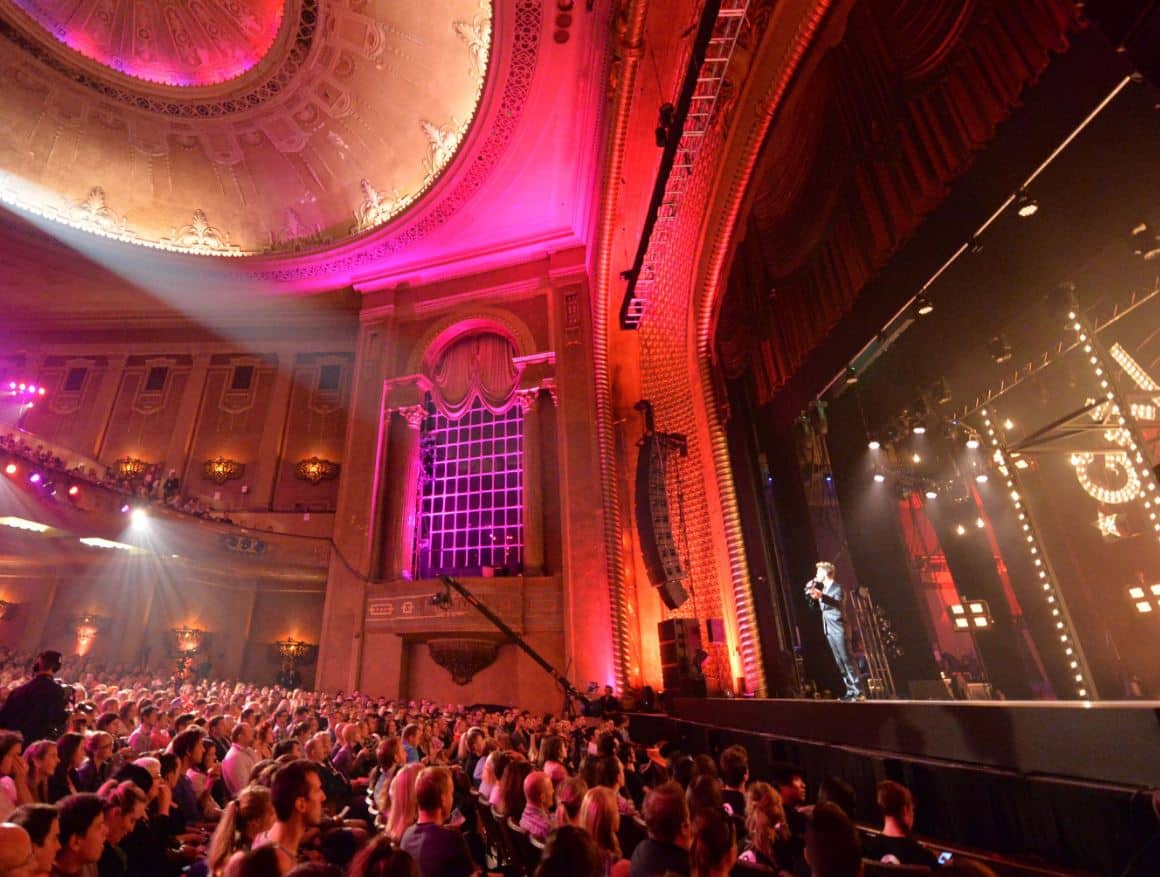 The Comedy Festival has always ushered in the beginning of Autumn, and its cancellation two weeks before opening signaled something far more ominous for the arts community. At a time when Australians desperately needed to laugh, the cancellation of one of the world's largest comedy festivals (on par with Montreal and Edinburgh) brought the impact of Covid-19 home.
 Other festivals would soon follow, including the Melbourne International Film Festival, Vivid Sydney, the Melbourne International Jazz Festival, Sydney Fringe, Day on the Lawn, Byron Bay Bluesfest and many others. These festivals are essential to our economy and for regional areas, vital in providing employment opportunities through tourism and hospitality. Although restrictions on mass gatherings were issued, there was also a sense of responsibility for the wellbeing of artists and audiences amongst event organisers. There was camaraderie in the sentiment of accepting short-term pain for long-term gain. The sooner the virus was contained, the sooner audiences could return to live events. "Let's not take risks" the organisers of Bello Music Festival wrote, "bunker down with your loved ones and stream your favourite music, go online and buy a new vinyl or T-shirt from your favourite band. Take this time to enrich your life by listening to their music, that always has brought us all so much joy." Although the Melbourne Fringe Festival has been postponed until November, other major events could not consider this option because of the struggle to locate venues or secure local or international acts that had conflicting schedules. The social and economic ramifications of these cancellations cannot be underestimated, and the flow-on effect to the workers behind the scenes reaches much further than the performers we pay to see.
Tim Minchin spoke recently about the impact of lockdown on artists for the Arts Wellbeing Collective. He reflected on the resilient nature of artists, explaining that they were used to setbacks because of the nature of their work, but also describing how the lockdown was problematic for the entire industry and no one was unaffected. Theatres and live music venues are not predicted to open for months, and many of the big shows that had their seasons cut short or were scheduled to open soon have been postponed until next year or cancelled entirely. Underneath a cloud of uncertainty, Minchin urged artists to continue creating work, to sustain their momentum and have something "ready to put out into the world'' at the end of this. We tell our students that interruption is the enemy of creativity, that they need to give their creative process the time it requires without distraction or disruption. For some, lockdown has been the greatest interruption to the creative process they have encountered, but other artists have managed by utilising this time to generate new work or cultivate nebulous ideas into fully developed projects, ready to launch.
History is full of artists who have overcome adversity. William Shakespeare wrote King Lear whilst quarantining during the plague, and tuberculosis inspired Puccini's Le Bohème. We are observing creative and innovative responses to this crisis by the arts sector, and while technology is assisting these processes, nothing will ever replace the experience of the live performer-audience relationship. Kalman Warhaft is the director of the Melbourne Institute of Dance and has performed with companies like the Australian Ballet and the Sydney Dance Company. I contacted him to find out how dancers were managing during lockdown. He discussed the renaissance which would occur when lockdown bans were lifted; when dancers who had been working with choreographers online could meet in person, and the creative projects that have been bubbling away in the background could be brought to life. Warhaft also talked about the flipside of reduced travel opportunities. A reduction in funds for touring international artists would augment creative opportunities for local arts makers and performers. Warhaft remained optimistic in his belief that while the stage lights might be off now, the work that will come out of this process "will be like gems, forged under pressure."
Schools have also experienced a sense of loss and disappointment as they've managed the lockdown situation and subsequent safety precautions. Yet no one has shown more resilience than the students who have adapted to these changes. Teachers have commented on the willingness of their students to work in new ways – to persevere through the challenges of social distancing to produce work that is both innovative and meaningful. We are fortunate at Strathcona to work in an environment that values collaboration and creativity. Those words are popular in education and management, alongside grit, agility and perseverance, but never have we needed these attributes to be more real. Creativity in a crisis in not a new notion, and our students have responded to this disruption in remarkable ways. They have continued music lessons, choreography workshops, ensemble and play rehearsals, as well as adapting existing works or productions, rather than throwing their work away. The ability to produce a tangible product, albeit in a different form than the one first imagined, is an essential part of the creative process. I believe the skills acquired during this time will prove invaluable, although it might not be until a distant future that our students encounter a similar challenge, reflect on this time and remember, nothing is insurmountable.
The videos of Italians standing on their balconies singing whilst quarantined went viral for a reason. Footage of musicians and ordinary citizens uniting to perform for each other buoyed communities across the world. We found solace in this creative response, not just as onlookers who felt for the residents in lockdown, but because we were watching a life-affirming reaction to a tragic situation. Until we can safely meet again, consider ways that you can engage with the arts from your living room. Buy tickets to an online event like the Melbourne Magic Festival or Adelaide Cabaret Festival. Watch a dance or theatre production on iView. Livestream a music performance, participate in a creative workshop or attend a Zoom stand-up session. And don't forget to keep creating your own work. Now's a good time to practice that instrument, start the novel you've been thinking about or pick up a paintbrush. You might really enjoy playing even a small role in the survival of the arts.
Mrs Claire Johns

Director of Productions