---
Using bits and pieces of crepe paper and toilet roll to create virtual reality may seem like something of a pipe dream.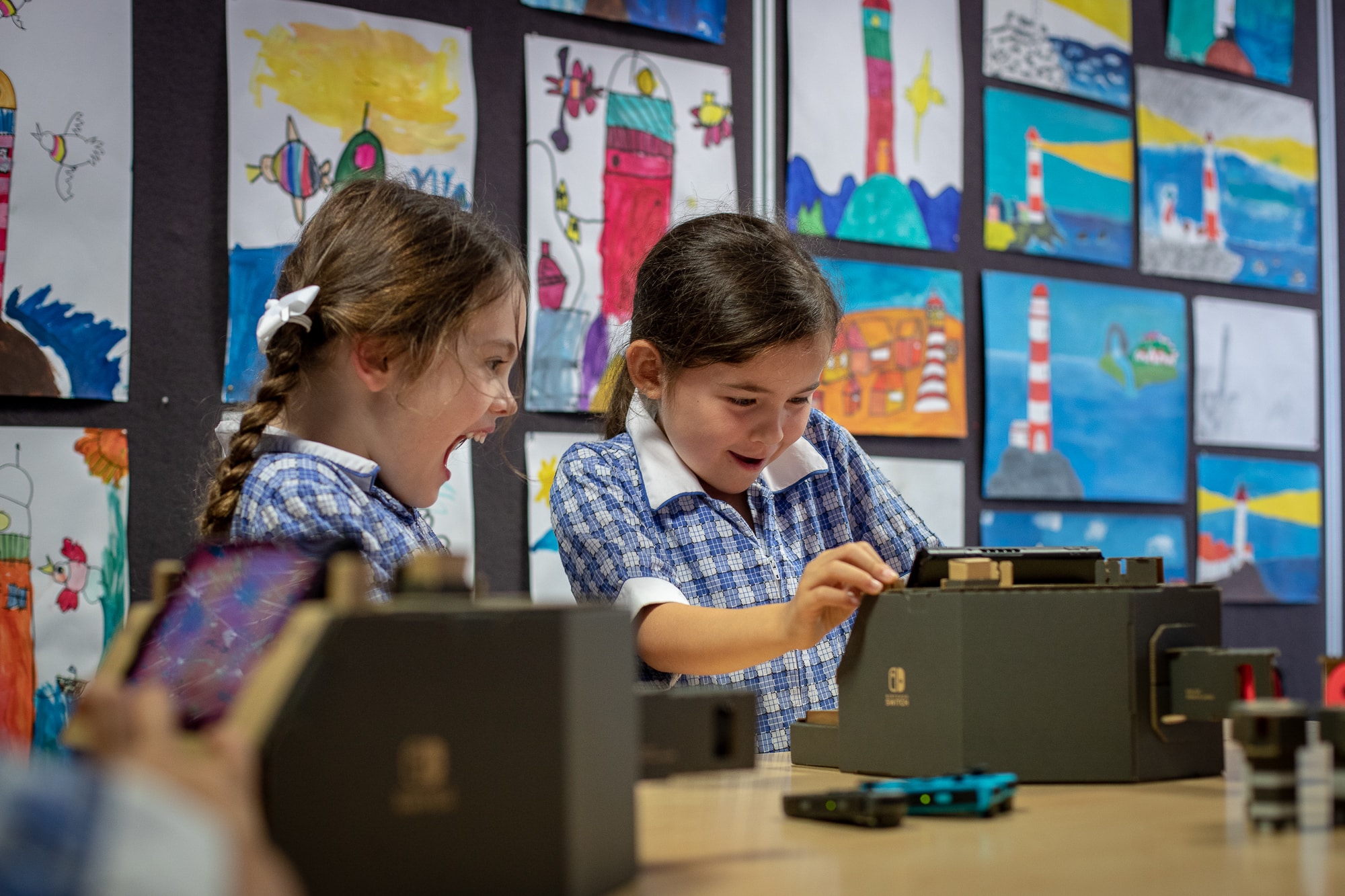 Year 1 and 2 students at Strathcona Baptist Girls Grammar have been enjoying Australia's first Nintendo Labo Creators Workshop.
But that's exactly what Year 1 and 2 students are undertaking at Strathcona Baptist Girls Grammar, thanks to Australia's first Nintendo Labo Creators Workshop.
The students are creating cardboard models of critters, before using programming and computational thinking with Nintendo Switch and Labo consoles to bring their creations to life.
Strathcona head of digital learning and innovation Michelle Dennis says the program is a great entry into STEM learning.
"It's been a really valuable addition to our curriculum and allowed the students to go beyond just making say a poster or a diorama, to really making rich cardboard creations," Dennis says.
"They're looking at different habitats and they're in the process of designing their own creatures to work with that habitat.
"They're using the joy-con controllers so that when you press a button the bug might move, [or] it might make different noises when you pick it up.
"So there are a lot of different programming tools that the students can use when creating their creature."
The workshop is part of a program launched by Nintendo to help support STEM learning in classrooms and to combine play with science, technology, engineering, art and maths lessons.
Dennis says the workshop was welcomed by the students and they showed great excitement towards their creations.
"The look on the kids' faces when their imaginations came alive and they started coming up with all these amazing ideas about what they could do with the Nintendo Joy-Cons … that was just really special to see," she says.
Working in groups, the workshop is designed to give students a collaborative play-time experience.
"The students had to work in teams so there is a lot of collaboration involved," Dennis explains.
"I think that is really important because technology can often be seen as something that's isolating. And so it really breaks that stereotype down, so that girls know that when you use technology it is actually about working as a team."
The workshop involves a full school day, where an expert from Nintendo visits the school to teach both the teachers and students about the program.
"We then looked at how in the six weeks afterwards we could build on this one day and make our curriculum richer with this new knowledge that the kids have," Dennis explains.
The workshop's initiative aligns with Strathcona's goal to enable students to be creators of technology and not just users, according to Dennis.
"We see that the earlier that students start to see how to create things with technology the more empowered they are," she says.
"They start making smarter decisions because they understand a lot of the complexities of technology.
"But beyond all that, it is about the future that we are trying to prepare them for … we are trying to prepare them so they don't just know how to use the tools we have today, but the tools of tomorrow.
"And so teaching them technology early on and not just at a basic user level allows our students to be really on that cutting edge where they are able to respond to change," Dennis says.
"I would absolutely recommend it to other schools. It's a great way to bring STEM into the early years."