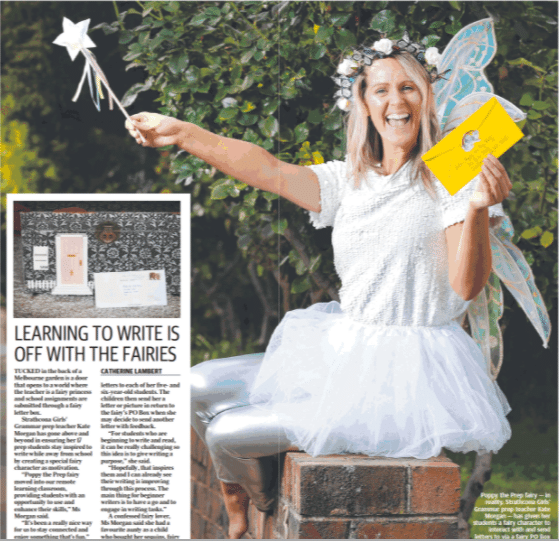 In the Media: Herald Sun, Monday 11 May, pages 8-9 by Catherine Lambert
TUCKED in the back of a Melbourne garden is a door that opens to a world where the teacher is a fairy princess and school assignments are submitted through a fairy letter box. 
Strathcona Girls' Grammar prep teacher Kate Morgan has gone above and beyond in ensuring her 17 prep students stay inspired to write while away from school by creating a special fairy character as motivation. 
"Poppy the Prep fairy moved into our remote learning classroom, providing students with an opportunity to use and enhance their skills," Ms Morgan said. 
"It's been a really nice way for us to stay connected and enjoy something that's fun."
Ms Morgan as the fairy character, writes and posts letters to each of her five-and-six-year-old students. The children then send her a letter or picture in return to the fairy's PO Box when she may decide to send another letter with feedback.
"For students who are beginning to write and read, it can be really challenging so this idea is to give writing a purpose," she said. "Hopefully, that inspires them and I can already see their writing is improving through this process. The main thing for beginner writers is to have a go and to engage in writing tasks." 
A confessed fairy lover, Ms Morgan said she had a favourite aunty as a child who bought her sequins, fairy wands and glitter to make the fairy world part of her play.