The XPRIZE Carbon Removal Student Competition is a four-year global competition that invites innovators and teams from around the world to create a solution that can pull carbon dioxide directly from the atmosphere or oceans and store it away permanently in an environmental way.
Below is a short interview with Rebecca and Sarah about their outstanding achievement.
Can you explain your recent project and its significance?
The project is an ongoing 4 year project under the XPRIZE carbon capture and removal competition. It involves a number of phases of proofing for the chosen carbon capture removal technology from feasibility to practical viewings. Such technology is estimated to be necessary in order to keep temperature rise below 1.5 – 2 degrees. A lot of the technologies already exist but the competition praises novelty so as a student team we prioritise generating project ideas that combine technologies and how we can enhance these to provide a more sustainable future. Our solution plans to grow trees that can be harvested and store carbon as cross-laminated timber and be used in construction, as well as growing algae that can then be pyrolised into biochar and used to improve soil quality. In the first submission of the competition, which involved a proposal based on research literature, our team won a $250,000 USD award to fund the practical research we will begin soon.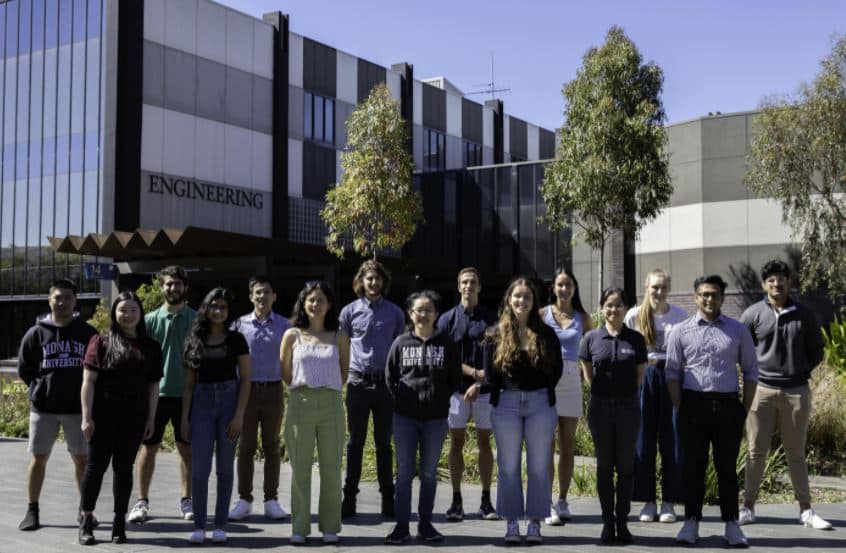 What made you choose this career path?
Sarah: I always knew I had a passion for the STEM subjects from a very young age and I think having parents both in the STEM realm and with engineering degrees it motivated me to choose engineering. I also really loved the practical side of engineering and the amount of creativity and innovation that can be pulled from it. After a general first year I headed in environmental as I took a liking to the chemical and civil aspects of engineering and environmental was a nice mix of both with a focus on sustainability. 
Rebecca: That is the same for me, throughout school, I enjoyed maths and science, but I have also always been very interested in discussion in the news about the environment, and behaviours on a personal level that can reduce our impact. I was interested in trying other specialties in the general first year, but ultimately I felt I would enjoy environmental engineering the most.
How did Strathcona prepare you for your chosen career?
Sarah: I think I really appreciated the STEM department at Strathcona and that all the teachers, especially Mr Hamilton in Physics pushed for women in stem and specifically engineering, with quite a few members of our class heading into the engineering fields. 
Rebecca:  I was lucky at Strathcona to be able to do Mathematical Methods in Year 11, which allowed me to study more subjects in Year 12. Particularly studying Physics, Chemistry, and Specialist Mathematics gave me a strong base for my engineering studies.
Completing the Morrisby testing in Year 10 was also helpful in planting the idea of engineering as a career choice.
What are you studying?
Sarah & Rebecca:  Environmental Engineering at Monash University
Who and what was the major influence on your career path?
Sarah: Probably both my parents. They always heavily encouraged following your passions and placing a priority on education and I think that really shone through. Also, I really love the nature of engineering between the mix of hands-on practical and desk work it's a good career move for those who like a mix of things. 
Rebecca: For me, it would also be my parents. Growing up they took me on many overnight hikes, which gave me a love of nature, and a desire to protect and preserve it. This was amplified by my fear of bushfires leading me to also fear climate change. I chose to do environmental engineering because I want to take actions that benefit nature throughout my career.
When did you decide that this is what you wanted to do?
Sarah:  I just always knew that I enjoyed physics and maths, had a passion for the environment, and was a bit restless, so engineering seemed a good fit. 
Rebecca: For my Year 12 English oral I chose to look at the Finkel Review, a report about investing in clean energy generation. I was trying to decide what course to do at that time, and I really enjoyed researching for it so from there environmental engineering felt like a clear choice.
What do you enjoy the most about your chosen career?
Sarah: There is so much innovation in engineering and especially with the rise of climate change, more and more technologies are being evolved to help the cause. Engineering is also a really cool job as it's a nice mix of hands-on work and desk work. 
Rebecca: Environmental engineering is very varied and allows you to study a broad range of subjects over topics such as building energy efficiency, air pollution, soil contamination, and recycling processes. While some subjects are calculation-based, most are more qualitative which gives more room in lectures for people to be passionate about what they are learning when compared to other engineering streams.
What core attributes do you need for your chosen career?
Sarah: A strong work ethic and passion for what you do are definitely the two main attributes. The engineering coursework can be quite a heavy load so just maintaining a good work structure and goal is crucial to getting through it all.  
Rebecca: Teamwork is another important attribute. Engineering requires many aspects of a project to be brought together by people with different specialisations. Therefore there is a large emphasis on group projects in engineering courses at Monash.
What advice would you give to someone looking to start in your industry?
Sarah: Just go for it! Being a woman in STEM is so crucial for the expansion and innovation within the industry and it's so important! There are so many pathways that can come out entering into the industry and so many different sectors you can enter into. 
Rebecca: I recommend getting as much experience at university as you can, particularly through student teams and clubs. Keep an eye out for things you are interested in, there is a lot going on at uni with many extracurricular opportunities, but at first, they were hard for me to find. The opportunities also change, at the start of my degree there weren't any environment-related student teams, but now there is a handful of them.