In the media: The Educator Australia https://www.theeducatoronline.com/k12/news/all-aboard-the-tinker-train/264786
We know that the world is rapidly changing in almost every sphere. Workplaces are adapting to this ever changing environment – and schools need to do the same, so that they can support students in preparing them for this unknown future.
At Strathcona we aim to provide our girls with the learning experiences, opportunities and confidence to thrive in the future.  We want our students to be able to think critically and creatively; to work flexibly with a variety of people from different backgrounds; to look beyond the current situation towards solutions which are new and different.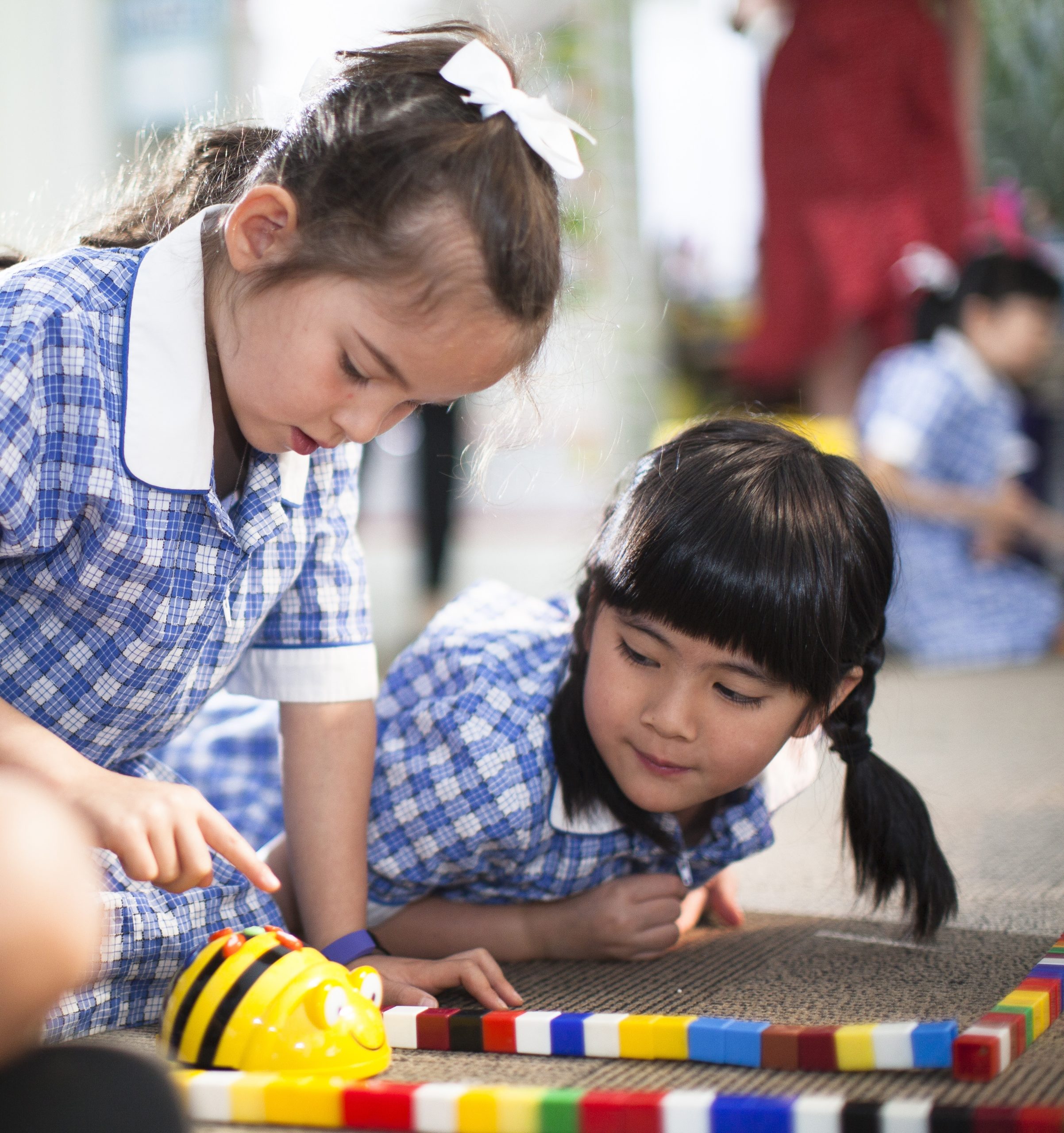 If we are to do this successfully, we need to start in the earliest stages of education.  From the very start, students need to be empowered in their learning and confident in the knowledge of what they can create. They will not have teachers standing over them, drip feeding knowledge, when they face a new technology in the workplace – so we need to make sure that they have the mindset and the tools to acquire and build their own understandings and predict possibilities. This means that the role of the teacher must change, to one which is facilitating learning, providing carefully constructed opportunities for students to thrive in carefully paced challenges. The teacher must role model life-long learning and productive risk taking.
From this imperative, the Tinker Train was born. This is a model for learning developed by Strathcona for inquiry learning, design thinking and the 21st Century skills. The train is used across Junior school and early Secondary. The program supports both teachers and students in developing their understanding of curriculum learning outcomes intertwined with STEM learning.
The Tinker Train adapts the idea of a design process, used Stanford d.School and across industries, to an educational context. It uses an easy to understand visual metaphor to allow students to understand and progress through the stages of solving an authentic problem. As students progress through the train, they are lead from the acquisition of knowledge through to the types of creative applications that signify true understanding. It has been designed with language that can be used from foundation, but the process itself is still valuable in the highest levels of schooling.
In my role I am privileged to be able to work alongside teachers within the Junior School to support them at creating learning experiences that engage and support students' creativity. Throughout each term I work with teachers at providing students with a range of stills to support their deeper understanding of key concepts along with developing their technology skills.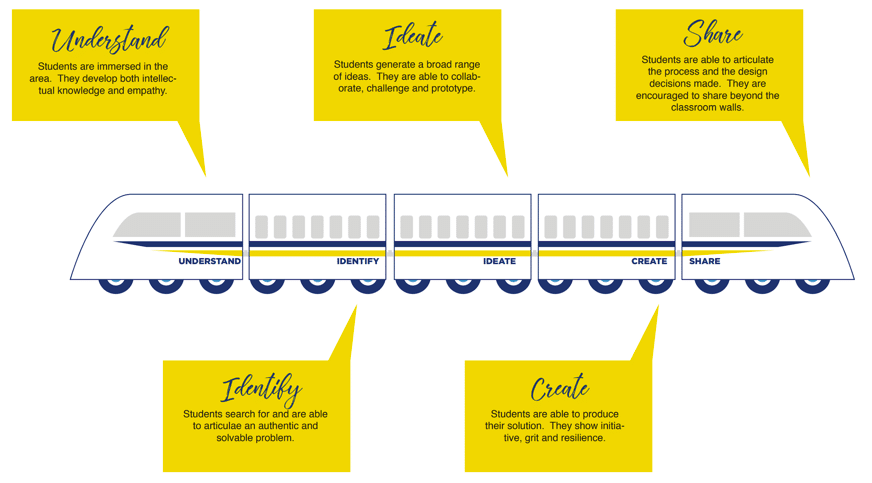 When the Tinker Train is applied, the results are exciting.
In Year 6, our students use the Tinker Train process to investigate sustainability.  They start by building their understanding of how we use energy in the home, giving their knowledge context with a visit to CERES. This knowledge is applied through the design and creation of models for their own sustainable houses. Using bluetooth sensors and servo motors from SAM Labs, students use code to transform these models into working prototypes. Solutions included windmills to power lights; automatic curtains responding to the movement of the sun; water turbines to produce electricity. The results were surprising and inspiring, and the students were empowered to think beyond what already exists and become inventors of the future.
We are very lucky at Strathcona to work with passionate staff who are supportive of this new model of thinking. My role is to support and facilitate them as they apply the model, so that we can have a consistent language and toolkit that grows with the students as they progress across the school. Each unit is carefully planned in a sequence following this model to ensure that students are supported in deepening their understanding and approaching challenges with an open mind.
The role of technology in our School is as a tool for students to express their thinking and develop products; our students are technology creators, not consumers. This represents technology as what it truly is: a tool with enormous possibilities which is intertwined in everyday life. When we teach technology in this context, we add meaning and purpose.
From day to day, the Strathcona Tinker Train looks different from each classroom you visit. It adapts and support students at their point of need whilst providing them with the skills to solve unknown problems. Some highlights from this year include:
–          The use of Minecraft to recreate and explore the Victorian Gold Fields
–          Creating minigolf courses for the Sphero robot, allowing students to explore mathematical concepts including angles and measurement
–          Constructing a cyber safety campaign as part of their digital passport program
–          Creating an eco-system map for the Beebots to navigate
–          Designing their own animal for a habitat using the Nintendo Labo
–          Designing a new chair for Baby Bear, in Goldilocks, linking literacy to design challenges
It has only been a year since the conception of the Tinker Train, but we have accomplished so much.
The direction of education has to shift. At Strathcona, responding to this has been an exciting challenge which has resulted in a program which has empowered our students to be constructors rather than consumers of our learning. We are looking forward to seeing which new destinations the Tinker Train will take us to as we continue our learning journey.
Eleni Kyritsis is the Junior School Curriculum and Innovation Teacher at Strathcona Baptist Girls Grammar School, and recent award recipient of Australia's Rising Stars 2019.